About Us
Established in 1973, Lian Beng is Singapore's leading homegrown construction group. We provide one-stop business solutions with integrated civil engineering, in-house construction-related business, resource and transportation, production of ready-mixed concrete and asphalt premix. We have been listed on the Singapore Exchange since 1999.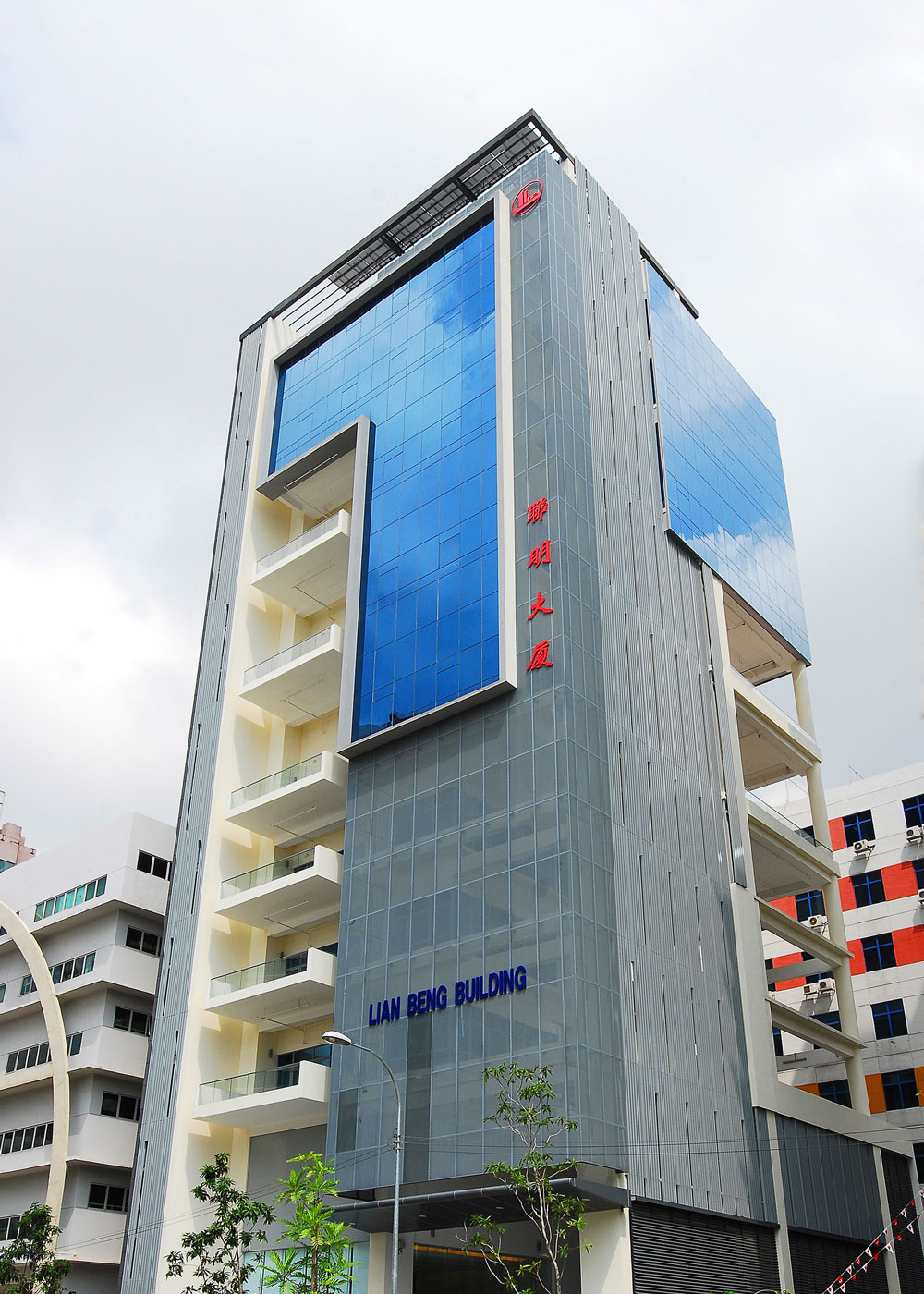 Our status with the Building and Construction Authority (BCA) as an A1 grade contractor in General Building enables us to tender for public-sector building projects of unlimited contract value, while our A2 grade in Civil Engineering allows us to handle engineering projects of up to $85 million in contract value.
Our property development arm, SLB Development Ltd (SLB), which has a diverse portfolio of residential, industrial, commercial and mixed-use projects, was successfully listed on the Singapore Exchange in April 2018.
We have been recognised for our project excellence and sustainable construction practices. Some of the noteworthy awards include:
BCA Quality Excellence Award - Quality Champion (Platinum), 2017
BCA Building Information Modelling (BIM) Award - Organisation Category (Gold), 2017
BCA Quality Excellence Award - Quality Champion (GoldPlus), 2016
BCA Quality Excellence Award (Gold), 2015
International Construction Award by the Global Trade Leaders' Club, headquartered in Madrid, Spain.
---
Corporate Milestones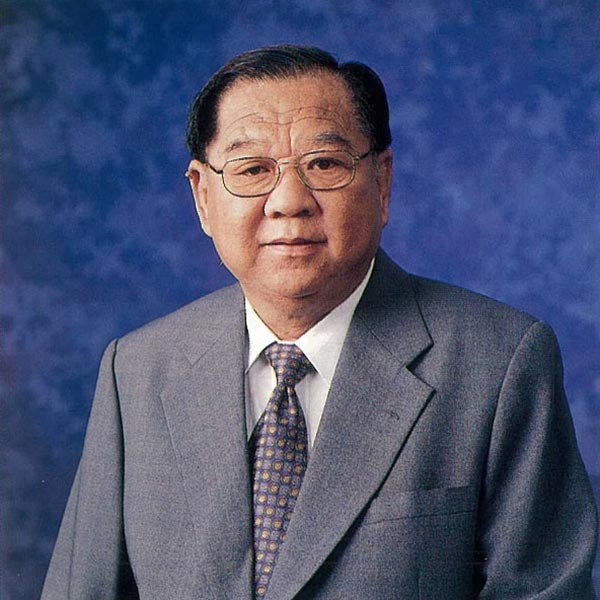 1973
Mr Ong Sek Chong founded Lian Beng Construction Company on a capital of S$3,000, to provide sub-contractor services for small-scale civil engineering and building projects.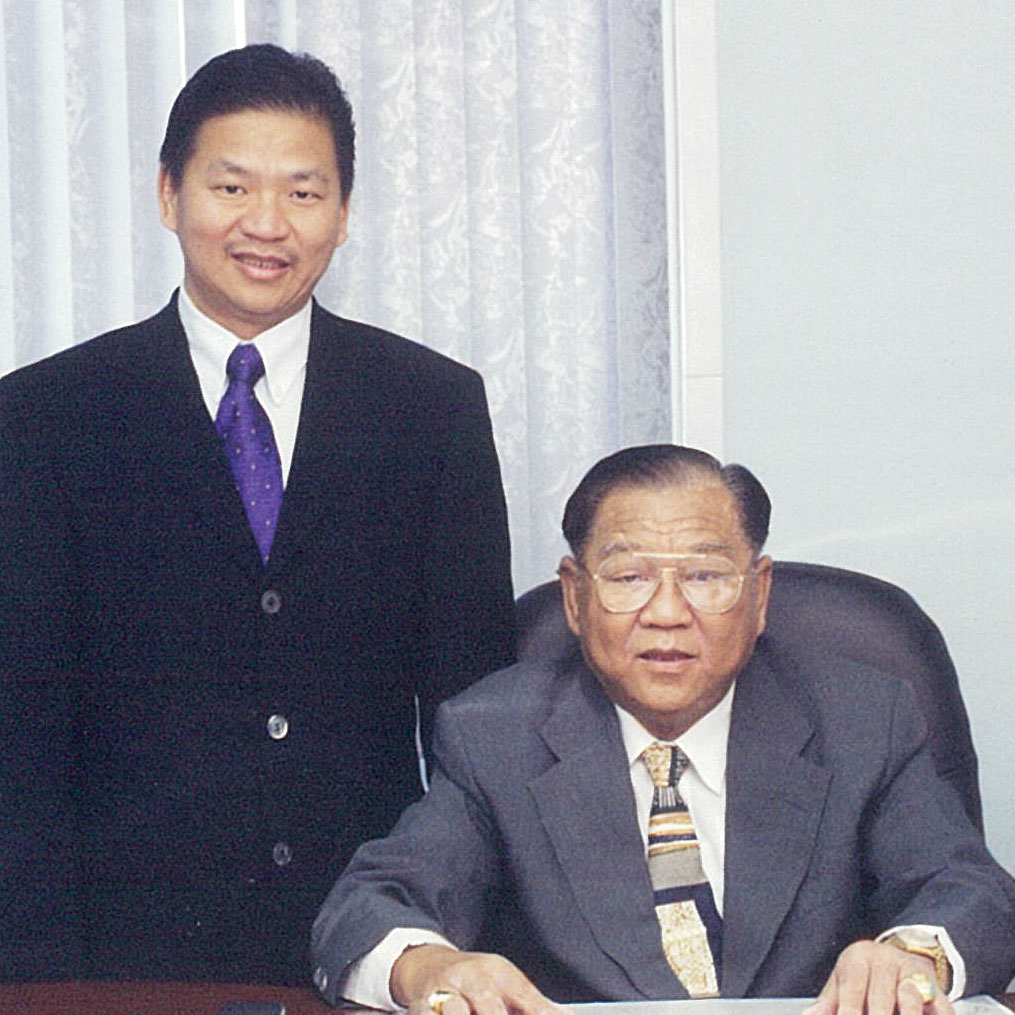 1978
Provided small-scale civil engineering and building construction services as a main contractor.
Mr Ong Pang Aik, the current Executive Chairman of the Group, joined the company in 1978.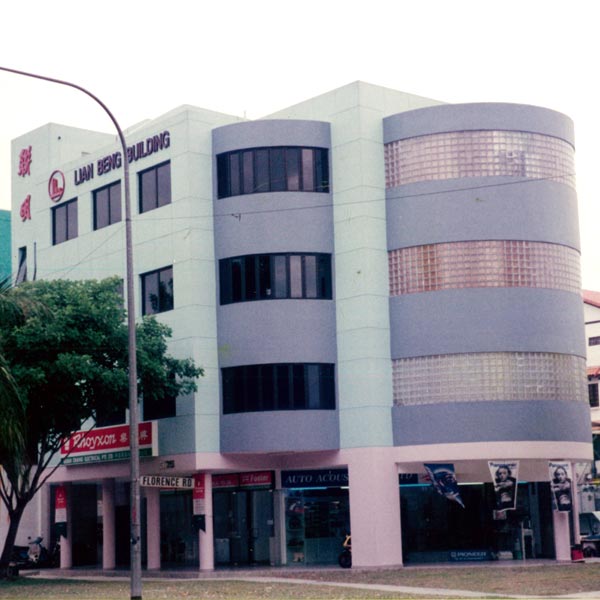 1988
Acquired our own corporate head office at 985 Upper Serangoon Road.
Converted from sole proprietorship to private limited company, Lian Beng Construction (1988) Pte Ltd, with a S$500,000 paid-up capital, to undertake public-sector infrastructure projects.
1993
Awarded our first Housing and Development Board (HDB) project, in Tampines.
Secured our first contract for the construction of a commercial development, Riverside Point.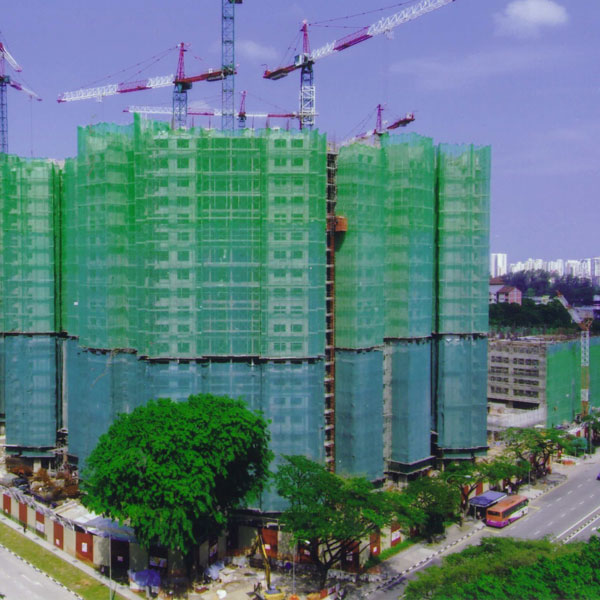 1996
Diversified into construction support services.
Secured our first private residential project, Eastpoint Green.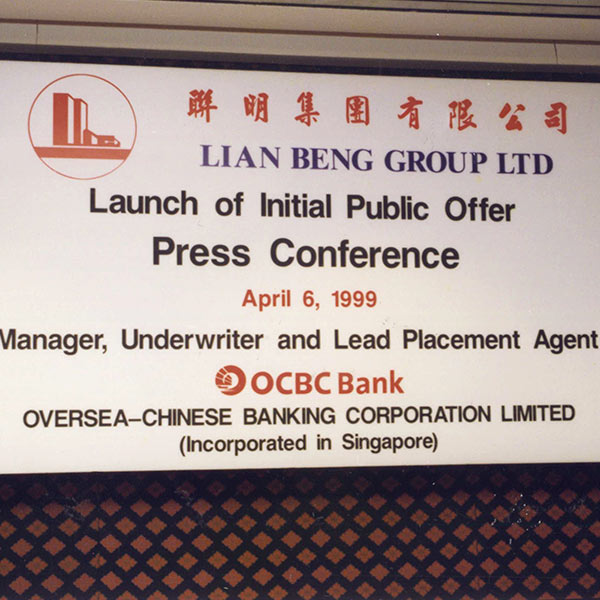 1999
Listed on the Mainboard of the Singapore Stock Exchange.
2000
Ventured into property development with Rocca Balestier and Derbyshire Heights.
Relocated corporate head office to 25 Playfair Road.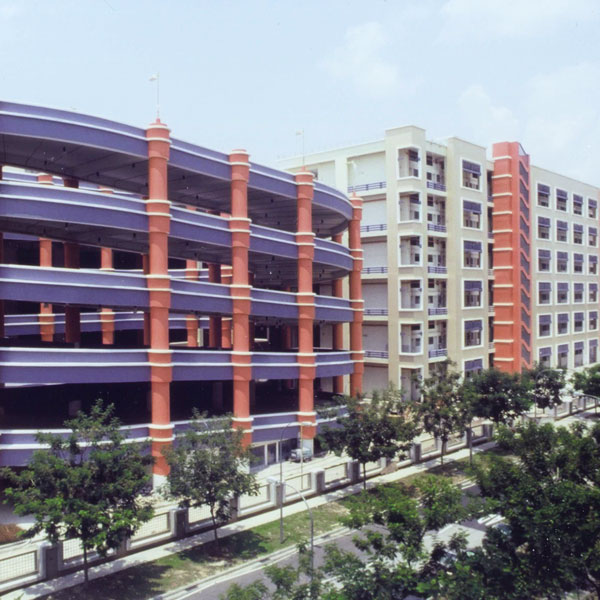 2001
Acquired Deenn Engineering Pte Ltd, an established G8 grade building contractor with design-and-build capabilities.
2005
Received Bronze Award at the inaugural Singapore Contractors Association Limited (SCAL) Safety Innovation Team Competition.
2006
First overseas venture, with a design-and-build construction project involving 600 single-storey housing units in Raa Dhuavaafaru , Maldives, for 4,000 people left homeless from the 2004 tsunami.
Also awarded project to construct community and educational buildings and wastewater disposal/collection facility. Lian Beng was the first Singapore-listed construction company to be awarded such projects in Maldives.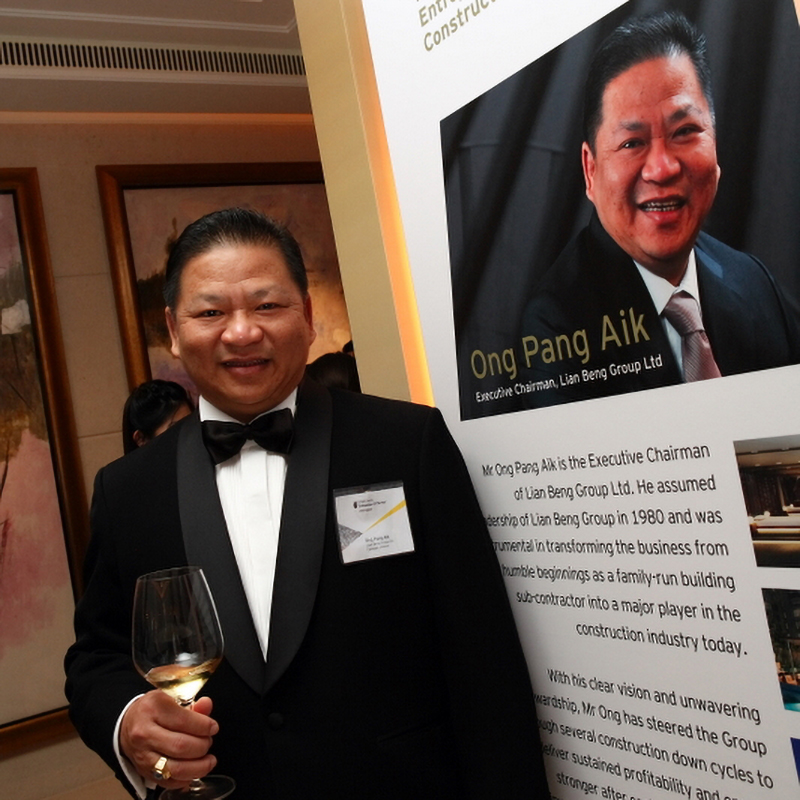 2008
Chairman Mr Ong Pang Aik recognised as Ernst & Young Entrepreneur of the Year – Construction.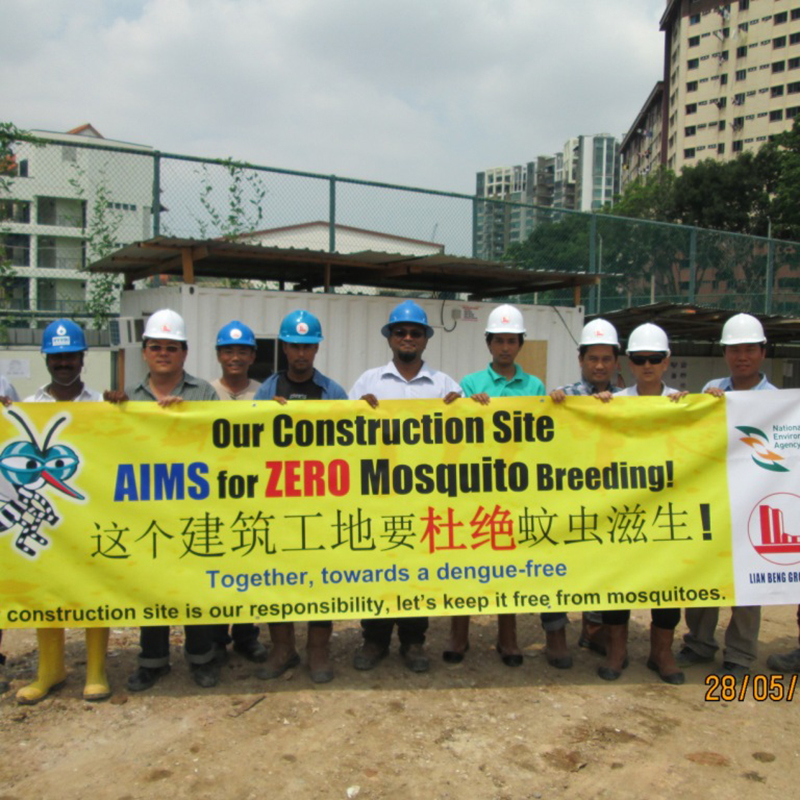 2009
Received BizSAFE STAR certification, the highest level of recognition from the Workplace Safety and Health Council.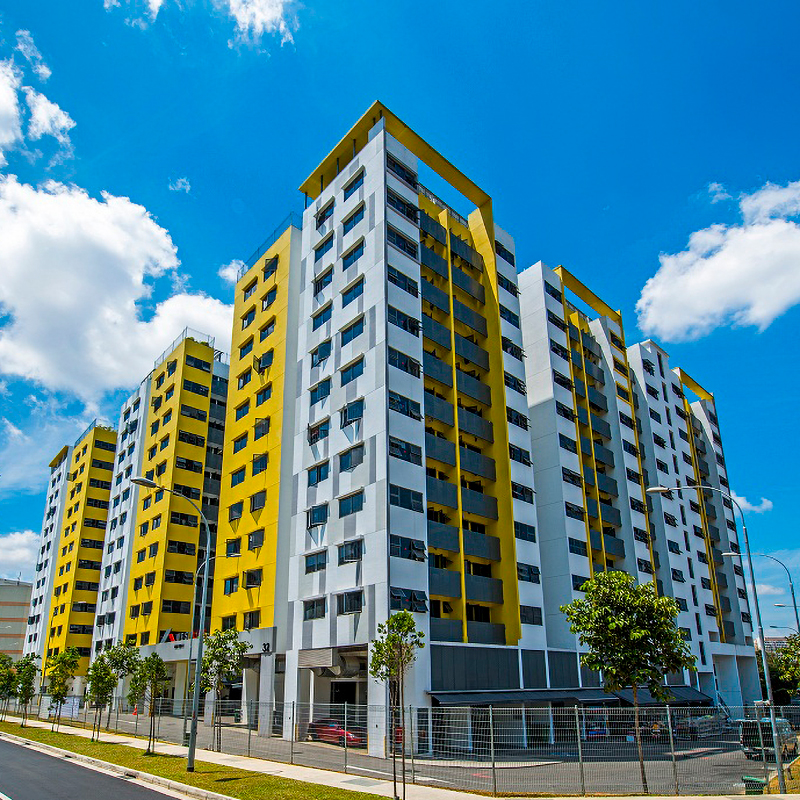 2011
Relocated corporate head office to Lian Beng Building at 29 Harrison Road.
Ventured into the Dormitory business with the completion of our first joint-venture 6,300-bed dormitory development at Mandai Estate.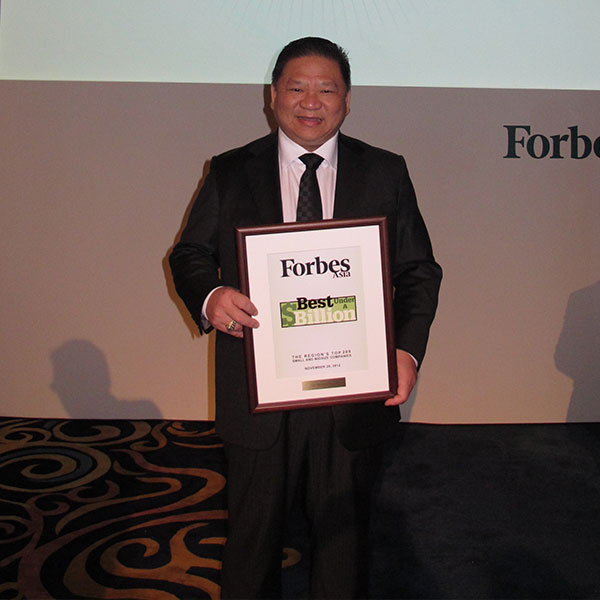 2012
One of four companies in Singapore to be ranked among Forbes Asia's "200 Best Under a Billion" list.
Chairman Mr Ong Pang Aik recognised by Singapore Corporate Awards as "Best CEO"  among listed companies with market capitalisation of S$300 million or less.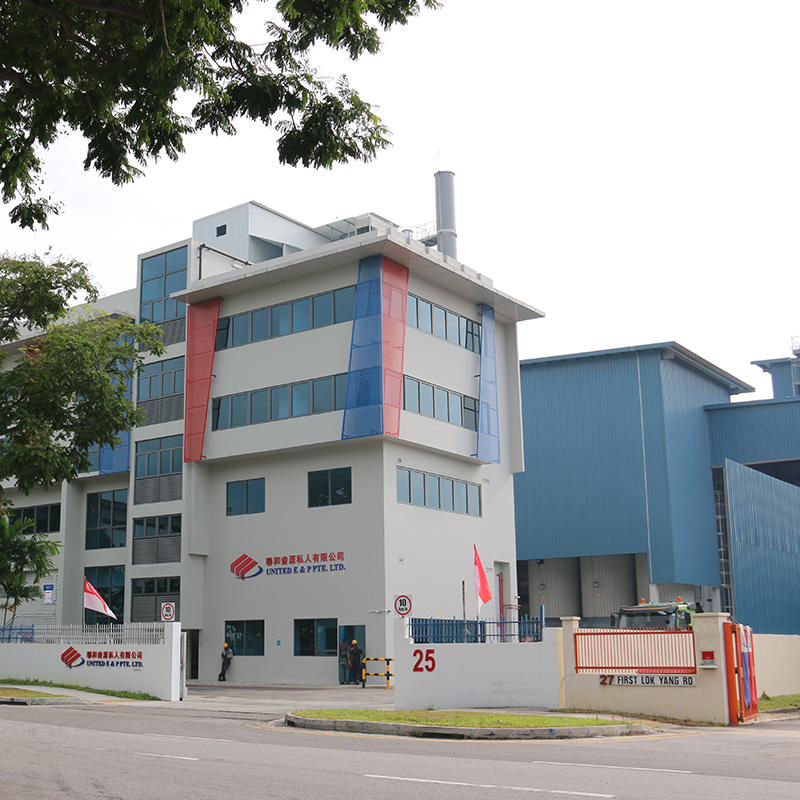 2013
Diversified into the manufacture and supply of asphalt premix through United E & P Pte. Ltd., a 40%-owned joint-venture company.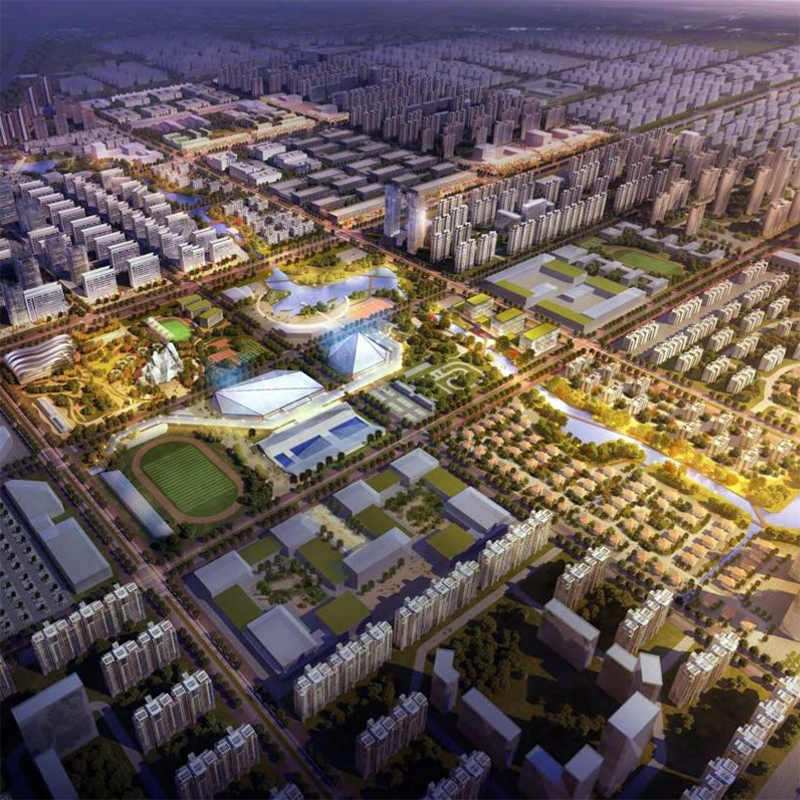 2014
First property development foray into China through Sino-Singapore KAP Construction Co. Ltd., a joint venture between Lian Beng and Beijing Jin Hua Tong Da Real Estate Development Co. Ltd.
Ventured into property investment in Australia through a A$5.5-million acquisition of freehold property at Fortitude Valley, Brisbane.
2016
First foray into property investment in the UK via acquisition of a 147-room hotel in Manchester by the Group's 40%-owned Prospere Hotels Pte. Ltd.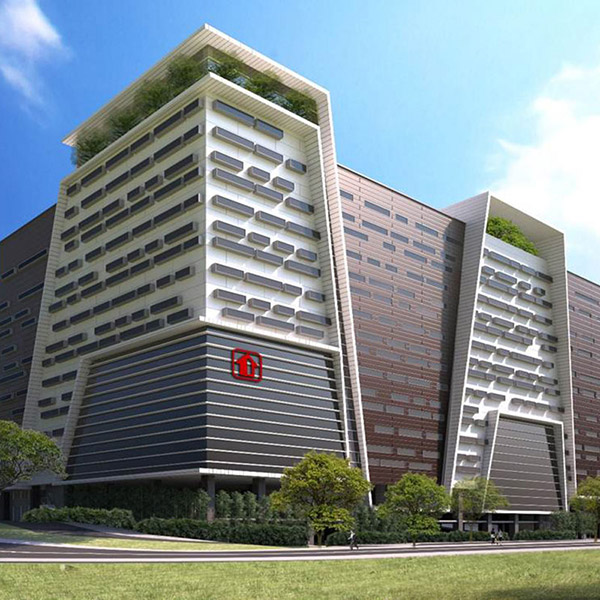 2017
Awarded the largest construction contract to date worth $435 million to build Defu Industrial City.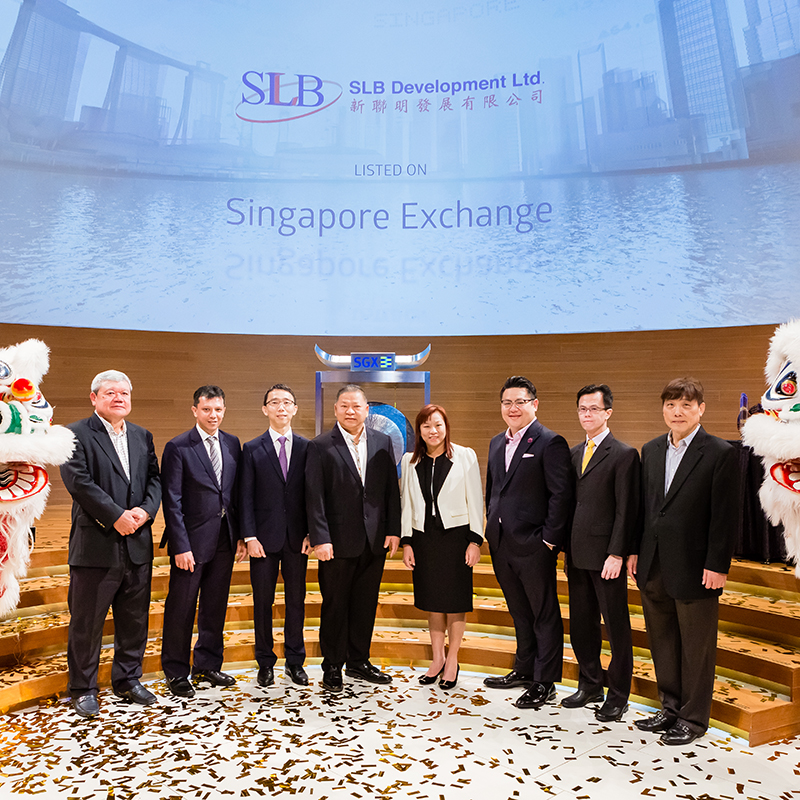 2018
The Group's property development subsidiary, SLB Development Ltd., was successfully spun off and listed on the Singapore Exchange Catalist Board in April 2018.
Acquired 60% of United Tec Construction Pte Ltd, a company specialising in using Prefabricated Prefinished Volumetric Construction (PPVC) technologies, to support BCA's design for manufacturing and assembly construction (DfMA) initiatives.
Corporate Social Responsibility
We can make a difference.
Corporate social responsibility is an integral part of our business philosophy. As a responsible corporate citizen, our goal is to make a lasting, positive impact on our stakeholders and the communities that we serve.
For The Community
For years, Lian Beng has been actively involved in corporate social responsibility projects. We have organised donation drives, built homes for villagers in developing communities, and sponsored meaningful causes as part of our effort to give back to the community.
For Our Staff
The safety and well-being of our staff are of paramount importance and should never be compromised. We have put in place safety procedures, as well as measures that encourage personal ownership of each employee's workplace health and safety. Our efforts in this area have been recognised by the Building and Construction Authority ("BCA") and Workplace Safety and Health Council.
For Our Environment
We believe in protecting the environment for the sake of our future generations. Through consultation and cooperation among our management, employees and stakeholders, we actively explore ways to minimise the impact of our activities on the environment. We are also a proponent of the Green and Gracious Builder Scheme initiated by the BCA, adopting best practices and aligning all entities within our Group towards the discharge of our environmental responsibilities.
Awards and Accolades
BCA Quality Mark (QM) for Good Workmanship - STAR
Midtown Residences / The Midtown
BCA Construction Excellence Award - MERIT
Centro Residences
BCA Construction Excellence Award - MERIT
Waterbank at Dakota
BCA Quality Mark (QM) for Good Workmanship - EXCELLENT
The Scala
Best Productivity Award
Singapore Construction Productivity
BCA Construction Excellence Award - MERIT
Waterfront Key
BCA Quality Mark (QM) For Good Workmanship - EXCELLENT
Waterbank At Dakota
BCA Construction Excellence Award
The Ritz Carlton Residences
BCA Green Mark - GOLD (PLUS)
Kranji Camp Project
BCA Quality Mark (QM) for Good Workmanship - MERIT
Park Natura
BCA Green Mark Platinum Award
29 Harrison Road, Lian Beng Group Headquarter
SCAL 2nd Safety Innovation Teams (SIT) Convention 2005
Bronze Award - La Casa
SCAL 1st Safety Innovation Teams (SIT) Convention 2004
Bronze Award - Blue Horizon
Construction Excellence 2000
Certificate of Merit (Institutional Buildings Category) - Redevelopment at Jurong Camp 1
BCA Quality Excellence Award - Quality Champion (PLATINUM)
BCA Building Information Modelling (BIM) Awards – GOLD
TopTen developers 2017 Singapore
BCI Asia
BCA Quality Excellence Award - Quality Champion (GOLD PLUS)
BCA Quality Excellence Award - Quality Champion (GOLD)
International Construction Award
Global Trade Leaders' Club
Best under a Billion - The Region's Top 200 Small & Midsize Companies
Forbes Asia
Best CEO for Listed Companies with Market Capita lisation of Less than $300 million
Singapore Corporate Awards 2012
Most Transparent Company Award - Runners - Up in the Construction Category
SIAS Investors' Choice Awards
The Entrepreneur of The Year 2011
Asia Pacific Entrepreneurship Awards
Entrepreneur of The Year 2008 - Construction
Ernst & Young Entrepreneur of the Year
Bull Charger Awards
STORM.SG
---
Leadership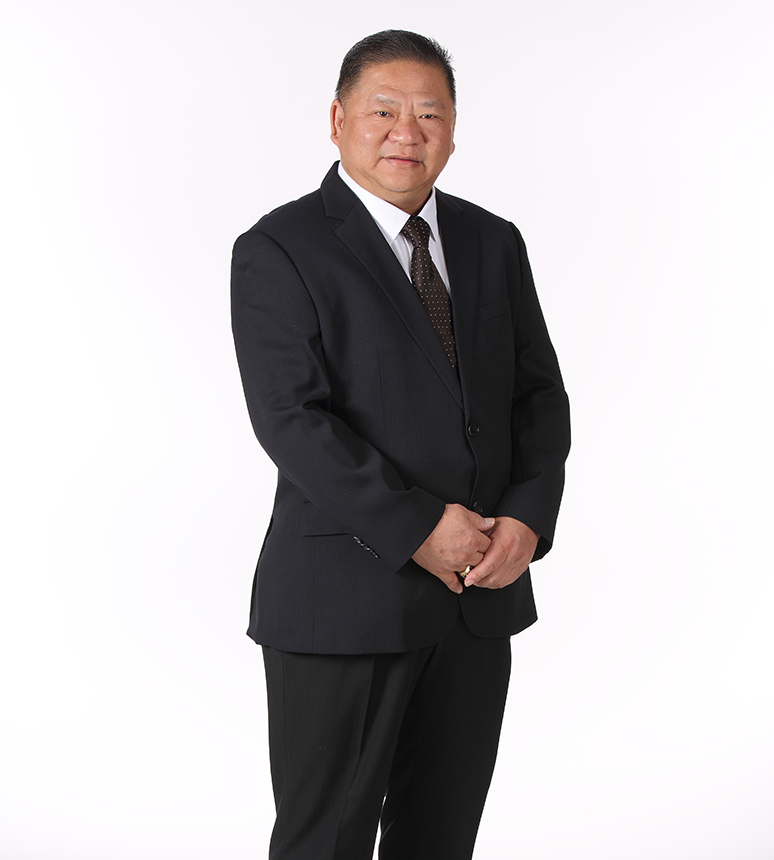 Chairman and Managing Director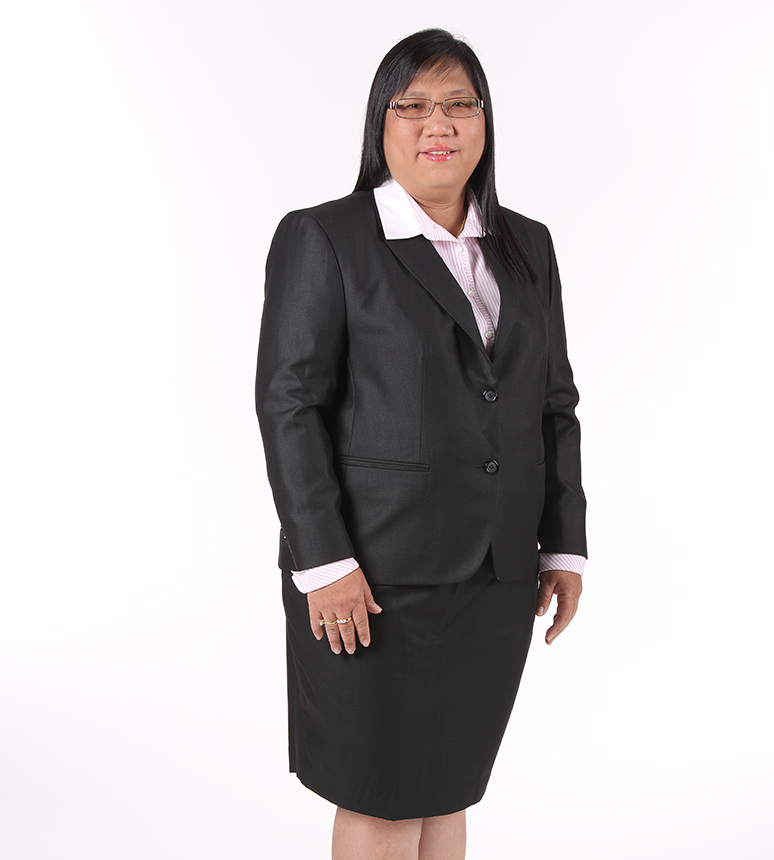 Ms. Ong Lay Huan
Executive Director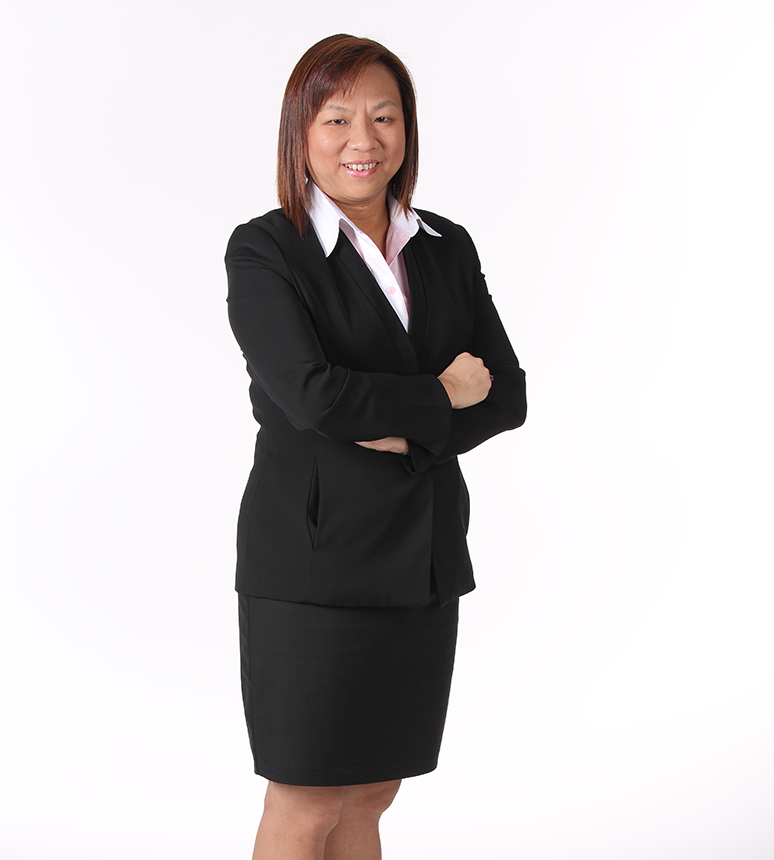 Ms. Ong Lay Koon
Executive Director